Bold and Beautiful Colored Gemstones
FANCY COLOR SAPPHIRES FOR EVERY OCCASION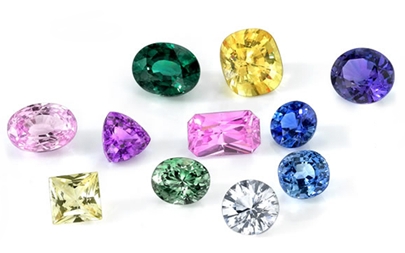 Diamonds may be a girl's best friend, but colored gemstones are a fab way to show that your love is out-of-this-world extraordinary. Colored gems in a rainbow of hues offer an affordable alternative to the traditional diamond and allow you to go with a larger carat weight for your engagement ring center stone. Sensational citrines and sapphires in yellow, pink and blue are loved by several engaged celebrities, too!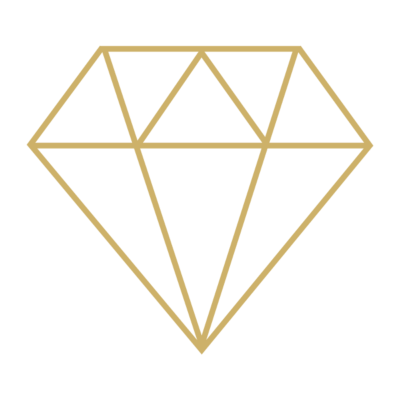 Pink Sapphire Gemstone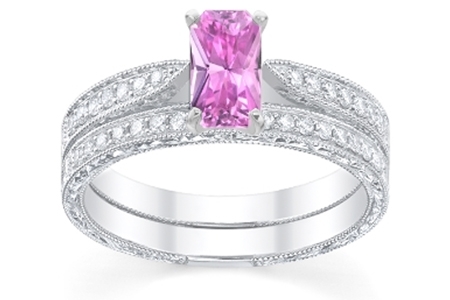 If all you need is love, then a passionate pink sapphire gemstone should be the center stone of choice for your engagement ring. The innocence of pink conveys your sweet, playful side (remember Eloise?) Celebrities and rock stars have long loved pink when it comes to the wedding. Gwen Stefani wore a white and pink wedding gown, and Jennifer Lopez temporarily said yes to a pink diamond engagement ring. (Was it for her third engagement?) The pink sapphire is a beautifully affordable colored gemstone option to the pink diamond, and the color is flattering on every skin tone.
Purple Sapphire Gemstone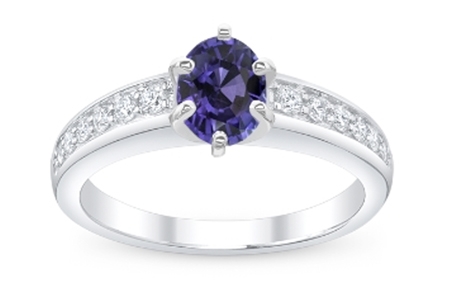 Knowing how to keep the peace is key to a happy marriage. Choosing the purple sapphire gemstone for your engagement ring center stone might make the rough days a little easier, as the color symbolizes peace and good judgment. It's also a color favored by artists, so if you're a bride-to-be who loves to express herself in creative ways, why not make a statement with this stunning colored gemstone?

Purple also represents royalty, so if your true love calls you his princess, then a proposal with this gorgeous color sapphire gemstone, set in a vintage-style halo engagement ring, might be in your future.
Blue Sapphire Gemstone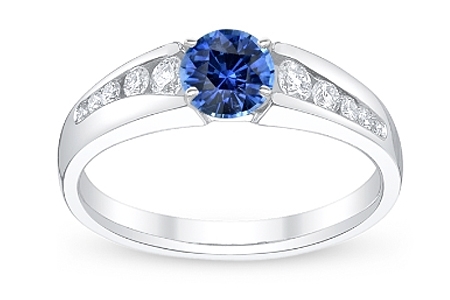 Those proper English princesses know a thing or two about the power of a colored gemstone. The blue sapphire is considered the gem of fidelity and symbolizes honesty, purity and trust. True blue, indeed. The bride who chooses blue for her engagement ring center stone isn't shy about taking the road less traveled and going for something other than the traditional diamond.

Today's most famous blue sapphire gemstone is the 18-carat beauty worn by Prince William's wife and future queen, Kate Middleton. She's living proof that a navy blue rock can be stunningly dressed up when visiting family at Buckingham Palace and also practical for everyday wear, as when she's grocery shopping in Wales. And though the royal ring is a giant expression of love, it seems tiny when compared to the 423-carat Logan Sapphire, currently safe and sound at a museum in Washington, D.C.
White Sapphire Gemstone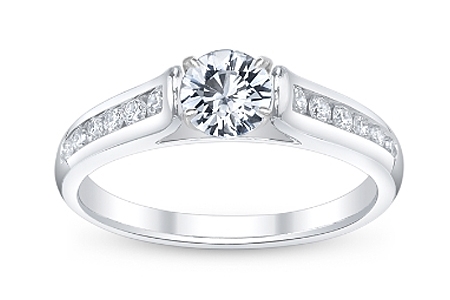 Love the look of the classic diamond, but not the price of the size of the rock you really want? Consider the white sapphire gemstone as an affordable way to get the colorless, natural center stone that is traditional, but with a twist.

The white sapphire gemstone symbolizes maturity and confidence, especially when it comes to relationships. This gemstone will look stunning set in a platinum or white gold engagement ring, and will truly make a statement when accented with yellow, pink or blue sapphire gemstone.
Yellow Sapphire Gemstone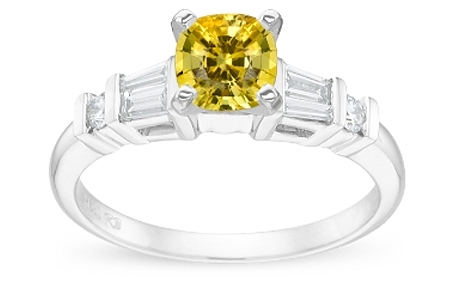 Good day sunshine. Wake up every morning to a yellow sapphire gemstone engagement ring on your left ring finger and you'll be skipping on your way to the kitchen to make coffee. Not only is the yellow of this colored gemstone a cheerful color, it is rumored to provide health, prosperity, denotes piety, and will bless you with children.

Set a yellow sapphire gemstone in white gold or platinum and the stone really pops. If you are really ready to go bold with gold, select a yellow gold setting and your engagement ring will be the talk of every party you attend.
Green Sapphire gemstone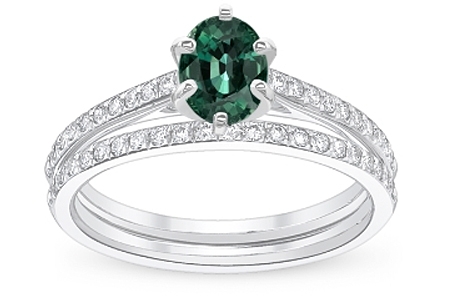 Given the complexities of any modern marriage, the green sapphire gemstone may soon be the most sought-after gemstone and might make couples' therapy a thing of the past. Why? If you're into color symbolism, green is the color of balance, harmony and growth. It's also supposed to represent money and protection from anxiety. (Makes a case for putting a green sapphire gemstone in his wedding ring too, right?)

Throw all the meanings aside and the green sapphire gemstone is quite simply a stunning choice for the center stone of your engagement ring that will make your friends... well, you know the cliché. The green sapphire gemstone is an excellent alternative to the precious emerald, a gemstone that is too soft and easily chips – not a viable option for an engagement ring that will be worn everyday for a lifetime.