Setting Types
Looking for a setting that's a classic or totally unique? You decide. A traditional setting or one that shouts a modern sensibility? It's up to you. We've got the widest array of settings to choose from. One of which will match your style to perfection. Whichever you choose, your ring will be a beautiful reflection of you. After all, it is your time to shine.
Prong Setting
A single diamond set in a traditional, plain mounting, usually with four or six prongs. This is a traditional engagement ring, and can be personalized with diamond bands, or a ring guard or wrap (which literally guard or wrap the main ring, and also "frame" the larger diamond to make it more prominent).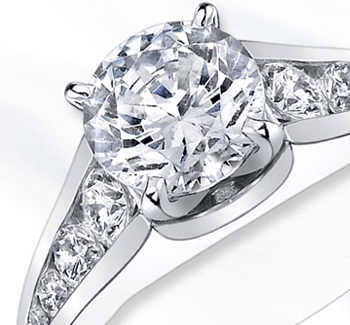 Channel Setting
This setting is most frequently used for wedding and anniversary bands. A Channel setting will set the stones right next to each other with no metal separating them. The outer ridge of metal is then worked over the edges of the stones. This protects the girdle area of the diamonds better than a bead or prong setting and provides a smooth exterior surface.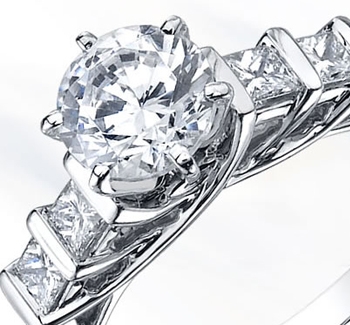 Bar Setting
Similar to the Channel setting, this type of setting is also most commonly used in anniversary and wedding bands, but can also be seen in bracelets and necklaces. It is a band of diamonds where each stone is held by a long thin bar shared between two stones. The Bar setting combines a contemporary and classic look.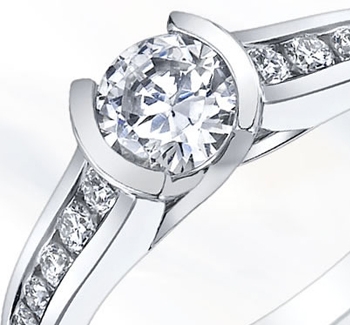 Bezel Setting
With a Bezel setting, a rim holds the stone and surrounds the gem. Bezels can have straight edges, scalloped edges, or can be molded into any shape to accommodate the stone. The backs can be opened or closed and they are used to set earrings, necklaces, bracelets, and rings. Warmer-colored diamonds look stunning when bezel set in yellow gold.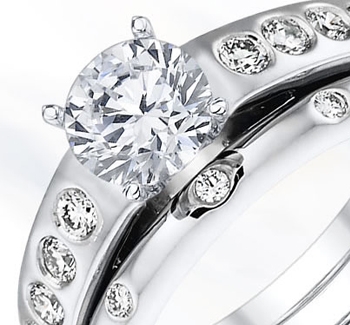 Gypsy Setting
You may know the Gypsy setting from men's jewelry you've seen. The band is one continuous piece that gets thicker at the top. The band is shaped like a dome and the stone is inserted in the middle. There are no prongs; therefore the look is smooth and clean.
Tension Setting
A tension-set diamond is held in place by the pressure of the band's metal, which is designed to "squeeze" the stone. The result is a highly contemporary, fashionable look and can be used to set necklaces, earring and rings.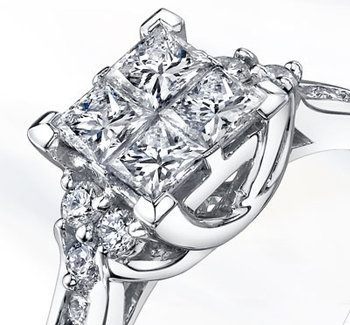 Illusion Setting
An illusion setting is smaller stones, usually princess cuts, set next to each other and held from below to give the illusion of a larger diamond. This setting is more intricate than others and creates a visually interesting piece.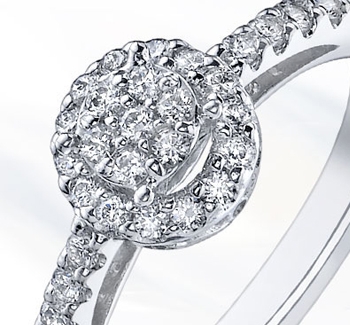 Cluster Setting
This setting surrounds a larger center stone with several smaller stones. It is designed to create a beautiful piece of diamond jewelry from many smaller stones.