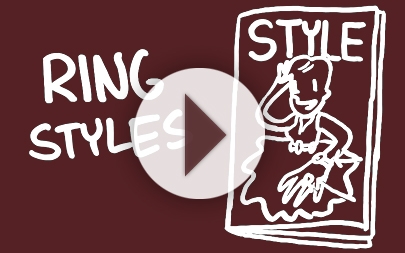 Engagement Ring Styles
Your engagement ring is the one item you'll wear everyday that expresses not only your committed relationship but also your personal style, be it classic, vintage or modern. Robbins Brothers carries rings from the world's top designers, and most rings can be customized with your choice of metal, center stone and side stones. Visit Robbins Brothers to find the engagement ring style that fits you and you'll cherish forever.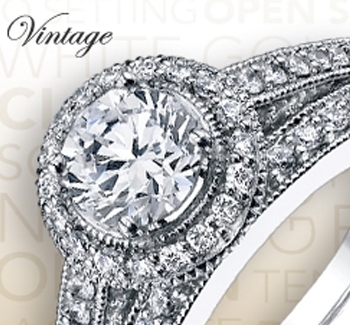 Vintage ENGAGEMENT Ring Styles
Details: Milgrain, engraved or embossed designs, filigree, pave, micro pave, diamond bezels/haloes, strong embellishments. Personality Characteristics: Sentimental, feminine. The wearer would love a wedding in a romantic setting like a castle or garden. She might prefer old movies, romance novels, and antiques. Comparative Clothing Styles: "Romantic" styling, lace, ruffles, soft flowing fabrics, antique or delicate floral patterns, hearts, ribbons, bows, feminine styling. Vintage Shopper.
Watch the video or Learn More.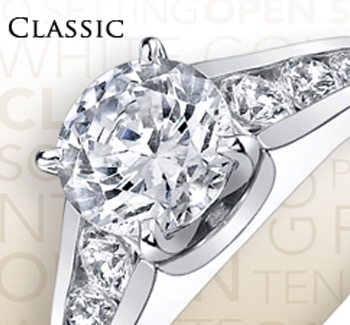 Classic ENGAGEMENT Ring Styles
Details: Channel set, three stone, or solitaire with a thin shank, a knife edge, or a wider band leading up to the center diamond. Personality Characteristics: Traditional. Sophisticated. Loves family gatherings, evenings with friends, the symphony and museums. Her dream wedding may be at a country club or estate. Comparative Clothing Styles: A tailored suit, a "little black dress" with a single strand of pearls, white cotton blouse and skirt, traditional, timeless clothing styles that seem to always be in style.
Watch the video or Learn More.
Modern ENGAGEMENT Ring Styles
Details: Channel set, open shanks, bold mountings. Geometric, architectural lines, bold, creative, abstract, streamlined, unique textures and shapes. Personality Characteristics: Bold, adventurous, unconventional. The wearer loves hip and trendy spots. Her ideal wedding might be in an art gallery, museum or somewhere totally unexpected. Comparative Clothing Styles: Unique textures, angular to geometric, edgy/experimental styling, bold patterns and colors.
Watch the video or Learn More.