Robbins Brothers – The Engagement Ring Store Woodland Hills / San Fernando Valley, CA
Woodland Hills / San Fernando Valley, CA
6645 Topanga Canyon Blvd.
Woodland Hills, CA 91303
Monday:
11:00 AM - 8:00 PM
Tuesday:
11:00 AM - 8:00 PM
Wednesday:
11:00 AM - 8:00 PM
Thursday:
11:00 AM - 8:00 PM
Friday:
11:00 AM - 8:00 PM
Saturday:
11:00 AM - 7:00 PM
Sunday:
12:00 PM - 6:00 PM
Meet Rez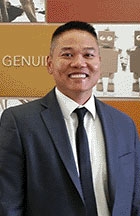 Rez Manansala
General Manager,
Woodland Hill / San Fernando Valley, CA
Robbins Brothers Woodland Hills is the store your jewelry needs. Our unique collection of diamonds includes everything from engagement rings to vintage jewelry designs that will leave you speechless. We are the best jeweler in Woodland Hills. Whether looking for a diamond engagement ring for your special day, earrings, or a gift for your loved one, there is no doubt that we have the perfect piece for you. Visit our showroom, and let our uniquely trained staff help you. We are here to ensure that your shopping experience will be unlike any other and that you will find the perfect piece for you. At Robbins Brothers we care deeply for our customers and are here to give you the shopping experience you will never forget.