Lashbrook Takeover - Robbins Brothers Bellevue
Lashbrook Takeover - Robbins Brothers Bellevue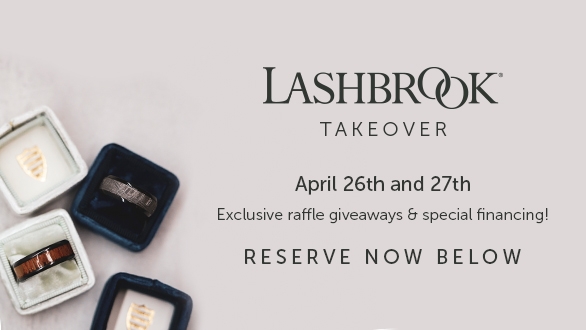 Friday, April 26th 11am-8pm | Saturday, April 27th 11am- 7pm
Make plans to attend an exclusive Lashbrook trunk show and shop over 300 unique and stylish men's bands, or build your own!
Enter for your chance to win a Lashbrook band up to a $750 value.
Meet with our exclusive wedding vendors on Saturday, 4/27 for special booking incentives.
Call 425-635-7464 for more information and to reserve your spot!
Bellevue
33 Bellevue Way NE.
Bellevue, WA 98004
Innovative materials and precious metals give this award-winning collection of wedding bands endless options to capture the unique and distinctive personality of the wearer. Made from the highest quality metals and artistic elements like meteorite, diamond dust, and carbon fiber, this collection of wedding bands for him or her are skillfully designed by expert engineers and master jewelers to bring your personal design to life. Designed to Inspire. Crafted with Precision. Worn with Distinction.