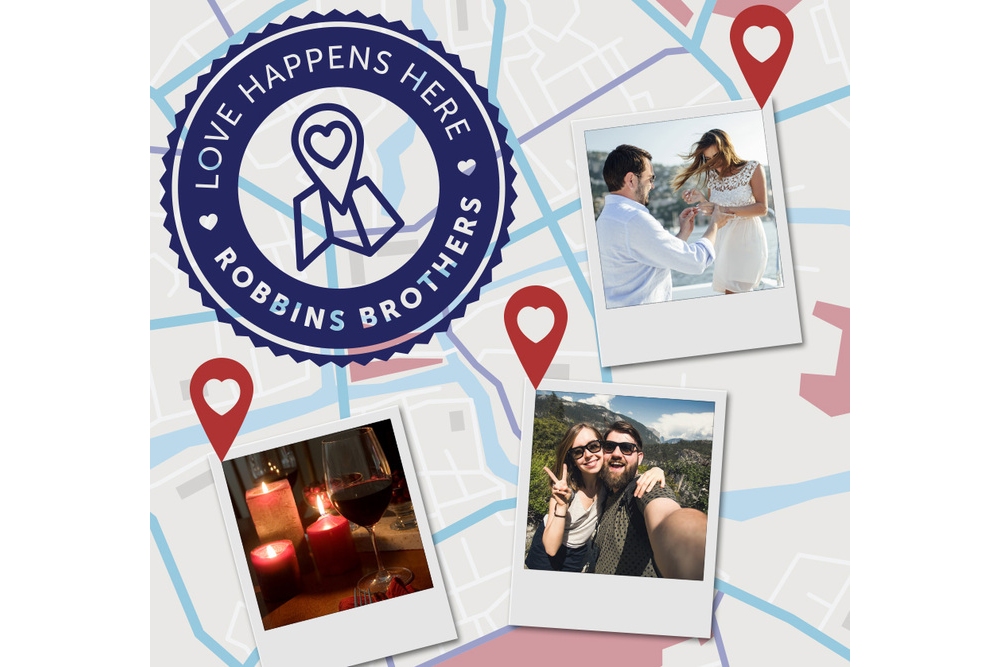 Our Gift to You
Please fill out the form to have your $50 coupon code emailed to you. This code can be used toward any $150 minimum purchase at Robbins Brothers retail locations or through the customer call center at 1-800-610-RING. Expires February 26, 2017.
Thanks for helping us share the love!
Robbins Brothers "Love Happens Here" Promotion
Entries Accepted: January 23 – February 12, 2017

OFFICIAL RULES
NO PURCHASE NECESSARY TO ENTER OR WIN. A PURCHASE WILL NOT INCREASE YOUR CHANCE OF WINNING
1. Eligibility:
The Promotion is open to legal residents of the United States only - excluding FL, NY and RI - who are eighteen (18) or over, except employees, officers or director of Robbins Brothers ("Sponsor") and its subsidiaries and affiliates, advertising and promotional agencies and any members of the immediate family or household of any such persons. Entries are limited to individuals only, commercial enterprises and business entities are not eligible. There is no purchase necessary to enter or to win the Promotion. A purchase will not improve your chances of winning the Promotion. Any violation of the Promotion Rules may result in disqualification. The promotion is void in FL, NY, RI and wherever prohibited.
2. Promotion Period
The Promotion begins on Monday, January 23, 2017 at 12:01:01 a.m. PT and ends Sunday, February 12, 2017 at 11:59:59 p.m. PT (the "Promotion Period"). All entries must be received during the Promotion Period in order to be eligible for a Promotion award or prize.
3. How to Enter
To enter, you will need to share a photo or video of yourself/couple at the most romantic place in your city on your Instagram or the Robbins Brothers main Facebook page – www.Facebook.com/RobbinsBrothers with both the hashtag #LoveHappensHere and the hashtag #Contest. Both hashtags are required. Failure to include both will mean your entry is incomplete. All entries must be received by 11:59:59 p.m. PT on February 12, 2017. Any other method of entry is void. Non-compliance with any entry procedure will result in disqualification. Accounts in the two listed social media services are free. None of the social media services is a sponsor of or associated in any way with this Promotion. Your Instagram account must be set to "Public" so we can see your photo if posted on the service.

You may submit as many photo/video entries as you wish, but each must be substantially different. Entrants are prohibited from using multiple names, multiple social media accounts, or other means to appear to enter more times than permitted. Any attempt to do so is grounds for disqualification. Use of any macro, bot, script or other automated means to submit entries is prohibited. Proof of submission is not proof of receipt. Sponsor's database computer is the official time-keeping device for the Promotion. Entries will not be acknowledged or returned. In the event of a dispute over the identity of an entrant, entry will be deemed submitted by the authorized account holder of the email address associated with the social media account used to post the entry. "Authorized account holder" is defined as the natural person who is assigned to an email address or other similar account associated with the relevant social media account.

By submitting your entry, you agree that you have received permission for the use of the name, image and/or likeness of any and all identifiable persons appearing in your entry and you grant the Sponsor the right to post your entry on www.RobbinsBrothers.com or Engaged.RobbinsBrothers.com during and after the Promotion. Entry must be suitable for publication at Sponsor's sole discretion. Entries that communicate messages or images inconsistent with the positive images and/or goodwill to which Sponsor wishes to associate will be disqualified in Sponsor's sole discretion.

Without limiting the forgeoing, all photos/videos must: (a) be the exclusive original work of the entrant; (b) not defame or invade publicity rights or privacy of any person, living or deceased, or otherwise infringe upon the rights of any person or entity, including but not limited to copyright, trademark, privacy or publicity, (c) not contain any commercial/corporate advertising, including but not limited to corporate logos, brand names and slogans, other than the Sponsors' in a manner that could be deemed infringing; (d) not depict any conduct or content that is unsafe, immoral, obscene or otherwise inappropriate as determined by Sponsor in its sole and absolute discretion; and (e) not have been submitted in any other sweepstakes or contest or won any prize.

Failure to meet any of the requirements above, or to otherwise comply with these Official Rules, may result in disqualification. Sponsor reserves the right to delete or blur any inappropriate content from a submission without disqualifying the entry where, in Sponsor's determination, such change does not materially alter the submission and the entrant has otherwise attempted in good faith to comply with these Official Rules. Sponsor may post or not post any submission online in any other form of communication in its discretion.
4. Winner Selection/Notification
20 random grand prize winners will be selected, on or about February 14, 2017 to receive a $500 Award Promotional Gift Card to Robbins Brothers with an expiration of July 23, 2017. The 20 grand prize potential winners will be contacted on or about February 14, 2017 via direct messaging in the social media service used for their entries. Each potential winner must respond within three days (72 Hours) to be eligible for a prize. If any potential winner does not respond within that time, he/she forfeits all rights to the prize and an alternate winner may be selected. Winner must meet all eligibility requirements and comply with all the Promotion Rules as described herein. Any potential winner who does not comply with the Promotion Rules as described herein may be disqualified and an alternate winner may be selected.
5. Prizes/Odds
Grand Prize: Twenty (20) available: A $500 Robbins Brothers Award Promotional Gift Card with an expiration of July 23, 2017. Award Promotional Gift Card is valid for use toward jewelry product purchases in Robbins Brothers' retail stores or through the customer call center. Not valid for services, warranties, loose diamonds and diamond solitaires. No refund is granted for any purchase less than the value of the promotional award card. The purchase amount will be deducted from the card amount. Odds of winning a Grand Prize in the drawing depend on the number of eligible entries received. Limit one (1) prize per eligible person.

Award Promotional Gift Cards are not refundable or transferable, and may not be exchanged for cash or credit at any time, nor will they be replaced if lost or stolen. All federal, state, and/or local income and other taxes, if any, are Winner's sole responsibility. Robbins Brothers shall not have any obligation to pay any taxes related to awarding the prize or notify any Winner of any tax obligation, other than this statement in these Official Rules.

Any entrant or potential Grand Prize winner may be required to sign and return an eligibility/liability/publicity release within three (3) days of notification or his/her coupon code and/or Award Promotional Gift Card may be forfeited. If any eligible person is deemed a minor under the laws of his/her place of residence, a parent or legal guardian must sign all required documents on his/her behalf.
6. General Conditions and Disclaimers
This promotion is subject to these Official Rules and all applicable federal, state, and local laws. By entering the Promotion, entrants agree to waive any right to claim ambiguity or error in the Official Rules of the Promotion, or the Promotion itself, and agree to be bound by these Official Rules and by all decisions of the judges, whose decisions are binding and final in all respects. If, for any reason, Promotion is not capable of running as originally planned, Sponsor, at its sole discretion, reserves the right to cancel, suspend or modify the Promotion or any portion(s) thereof and select the Grand Prize winners from among all eligible entries received at the time of termination, if any. Any person attempting to defraud Sponsor or tamper with the Promotion in any way may be prosecuted to the full extent permitted by law and will not be eligible for a prize.

By submitting an entry, you agree that Sponsor and its designees shall have perpetual, worldwide right to edit, publish and use the entry in any way and in any media for trade, advertising, promotional and/or other purposes as Sponsor may determine in its sole discretion without further consideration to you.
7. Release from Liability
Entrants are solely responsible for their own actions and agree to defend, indemnify and hold harmless Robbins Brothers, sponsors, subsidiaries, affiliates, suppliers, distributors, advertising/promotion agencies and divisions and the officers, directors, employees, agents, successors, assigns and licensees from and against any claim or cause of action, any liability for losses, damages or injuries arising in connection with their participation in the Promotion or the award of a prize. This includes but not limited to, personal injury, death or damage to or loss of property, arising out of participation in the Promotion or receipt or use or misuse of any prize or participation in any Promotion related activity and for any claims based on publicity rights, defamation or invasion of privacy. You acknowledge and agree that any Materials you submit may be made available by Robbins Brothers and other sponsors for viewing and commenting by the public. You acknowledge that comments that you disagree with or are not content about may be published or otherwise become associated with Materials that you submit to Robbins Brothers. By submitting Materials to Robbins Brothers, you waive any privacy expectations that you may have with respect to the Materials. For New Jersey residents, the limitations set forth above are inapplicable where attorneys' fees, court costs, or other damages are mandated by statute.
8. General Terms
No responsibility is assumed for: (i) lost, late, misdirected, damaged, garbled, incomplete or illegible entries, all of which are void: (ii) error, omission, interruption, deletion, defect, delay in operations or transmission, theft or destruction or unauthorized access to or alterations of entry materials, or for technical, network, telephone equipment, electronic, computer, hardware or software malfunctions of any kind, or inaccurate transmission of failure to receive entry information by Sponsor or account of technical problems or traffic congestion on the Internet or at any web site or any combination thereof; or (iii) any injury or damage to entrant's or any other person's computer related to or resulting from participating in the Promotion.
9. Winner List
For the names of the Grand Prize winners, available after February 20, 2017, please visit Engaged.RobbinsBrothers.com.
10. Sponsor
The Sponsor is ROBBINS BROS. JEWELRY INC | P.O. BOX 517 | AZUSA, CA 91702-0517
11. Instagram, Facebook
By participating, you release Facebook, Instagram and their parent companies, subsidiaries, affiliates, partners, employees, directors, agents, advertising agencies, from any and against any and all injury, loss or damage caused or claimed to be caused by your participation in the Promotion and/or the acceptance, awarding, receipt, use and/or misuse any Award Promotional Gift Card, or other prize or award. This promotion is in no way sponsored, endorsed or administered by, or associated with Facebook or Instagram.