Echo Diamonds
At Robbins Brothers
The exclusive Echo Diamond has 98 hand-cut facets arranged for intense brilliance and its exceptional beauty is matched only by the love you share.
98 Facets of Brilliance
The Echo's facet placement allows more light movement and more sparkle, which creates a more vibrant diamond. Every Echo Diamond is laser inscribed with the Echo logo and IGI certificate number making your diamond exclusive to you.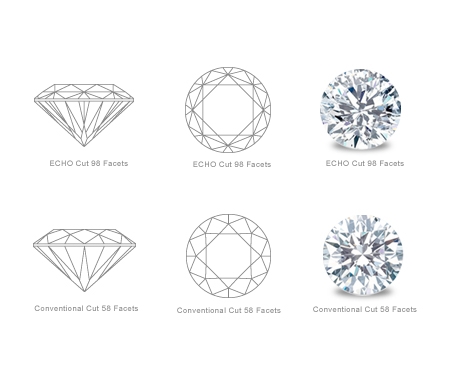 Graded for light performance by Imagem Inc.
Imagem's Light Performance Index defines a diamond's effectiveness by measuring the maximum amount of light seen coming from the diamond. The Echo with 98 facets of brilliance scores exceptionally well on the Imagem Light Return Certificate, an objective measurement of the brilliance of the diamond.
Visually more beautiful. Visually more brilliant.
---
What makes your Echo Diamond an Engagement Diamond?
Hand Selected for visual beauty and sparkle
Chosen for structural integrity and quality
Guaranteed 110% by our Diamond Guarantee
Never fracture filled or laser drilled
Responsibly sourced and conflict free
Where to find your Echo Diamonds
Visit us to see some of our beautiful Echo Diamonds
Explore Our Diamond Brands